Clement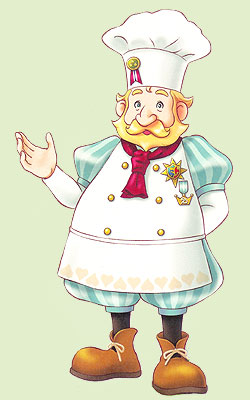 Clement is a chef who has come to the village to open his restaurant, Chez Clement. His shop will sell cooked dishes you can eat to restore your stamina and health, and his menu changes each season. Clement also runs the cooking festival that occurs on Summer 21, but the festival won't be available until he moves into town.
To entice Clement to move to Echo Village you'll need to construct the Restaurant. The blueprint for his house appears at Rebecca's shop when you reach Town Restoration Plan #2. You'll need to use 50 Material Stone, 65 Small Lumber, 5 Brick, and 5 Mint. Mint can be found wild on the ground in the River, Mountain, and Forest areas. Brick can easily be found inside the mine, but if you haven't unlocked it yet you can find Brick by searching the large tree trunks in the wild areas.
Clement has cooking recipes if you give him gifts, but you'll need to buy all of the "Basic xxx Recipes" from Hana's shop before he'll give you his special recipes. Clement will give you a Starter Recipes set, Beginner Recipes set, Intermediate Recipes set, Advanced Recipes set, and finally a Master Recipes set.
Personal Data
Birthday: Summer 2
Family: Daughter (doesn't live in Echo Village)
Preferred Animals: All animals are liked (+150 FP)
Daily Schedule
Sunday, Monday, Wednesday, Thursday, and Saturday (sunny, rainy, or snowy)
6:00 am to 8:00 am = Chez Clement (eating)
8:00 am to 10:00 am = Chez Clement
10:00 am to 6:00 pm = Chez Clement (shop open)
6:00 pm to 7:00 pm = Random location C
7:00 pm to 9:00 pm = Clez Clement (eating)
9:00 pm to 12:00 am = Random location C
Tuesday and Friday (sunny, rainy, or snowy)
6:00 am to 8:00 am = Chez Clement (eating)
8:00 am to 12:00 pm = Random location A
12:00 pm to 2:00 pm = Chez Clement (eating)
2:00 pm to 6:00 pm = Random location B
6:00 pm to 7:00 pm = Random location C
7:00 pm to 9:00 pm = Chez Clement (eating)
9:00 pm to 12:00 am = Random location C
Sunday through Saturday (stormy)
6:00 am to 8:00 am = Chez Clement (eating)
8:00 am to 12:00 pm = Chez Clement
12:00 pm to 2:00 pm = Chez Clement (eating)
2:00 pm to 7:00 pm = Chez Clement
7:00 pm to 9:00 pm = Chez Clement (eating)
9:00 pm to 12:00 am = Chez Clement
Random location A: (sunny or snowy) Forest, Mountain, Chez Clement, or River | (rainy) Forest, General Store, Chez Clement, or River
Random location B: (sunny snowy, or rainy) Chez Clement
Random locationC: (sunny or snowy) Village, West Village, or your East Farm | (rainy) General Store or Chez Clement
Gift Preferences
Special Gift
+800 FP
Noodle and Bread Recipes: Basil Cheese Bread
Flour + Basil + cheese (Intermediate Recipe Set from Clement)
Loved Gifts
+500 FP
Normal Items: Basil, Shiitake, Shimeji, Trumpet Mushroom, Coral Mushroom, Common Mushroom, Truffle

Soup Recipes: Mushroom Soup

Fried Recipes: Roasted Mushroom

Rice Recipes: Mushroom Rice

Noodle and Bread Recipes: Mushroom Spaghetti

Dessert Recipes: Mushroom Pie, Mushroom Ice Cream

Drink Recipes: Honey Tea
Liked Gifts
+300 FP
Normal Items: Cheese, Great Cheese, Jersey Cheese, Great Jersey Cheese, Yak Cheese, Great Yak Cheese, Herb Cheese, Great Herb Cheese, Jersey Herb Cheese, Great J. Herb Cheese, Yak Herb Cheese, Great Y. Herb Cheese, Wine, Ginkgo Branch

Fish: all fish

Soup Recipes: Ukha, Borscht, Gazpacho, Minestrone, Corbasi, Tom Yum Goong, Fish Chowder, Sturgeon Soup, Mitten Crab Soup

Fried Recipes: Quiche, Pissaladiere, Raclette

Pot Recipes: Boiled Lotus Root, Pot-au-Feu, Ratatouille, Caponata

Rice Recipes: Dolma, Arancini

Noodle and Bread Recipes: Cannelloni, Carbonara, Beefaroni

Dessert Recipes: Clafoutis, Hushpuppies
Neutral Gifts
+50 FP
All other items not listed
Disliked Gifts
-300 FP
Normal Items: Fish Trap, Stay Awake, Stamina Booster, Super Stay Awake, Stamina Saver, Stamina Booster XL, Angler's Dream, Feline Friend, Canine Companion, Wild Animal Friend, Chicken Feed, Pet Food, Treat, Cow Treat, Sheep Treat, Chicken Treat, Fish Food, Dog Bone, Cat Bell, Barn Dirt, Oil, Bottle, Can, Fish Bones, Old Boot, Soil, Weed, Small Rock, Rock, Black Rock, Small Branch, Branch, Black Branch

Critters: all critters
Hated Gifts
-500 FP
Normal Items: Fodder, Poison Mushroom, Glittering Stone, Gold, Silver, Copper, Scrap Metal, Brick, Glass Stone, Iron, Crystal, Ruby, Jade, Diamond, Amethyst, Emerald, Agate, Peridot, Sandrose, Flourite, Adamantite, Orichalcum, Mithril, Platinum, Pink Diamond, Topaz, Moon Stone, Mythic Stone
HORROR Gift
-800 FP
Salad Recipes: Mushroom Salad