Tea House
Hours: 10:00 am to 6:00 pm
Friday, Saturday, and Sunday
Closed on rainy and stormy weather days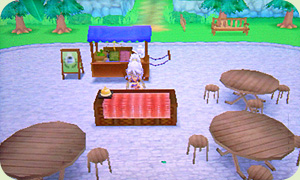 This shop is set up at the same location as Neil's animal booth and Rod's pet shop, in the plaza of the village main area. Olivia will sell drinks and sweet desserts for you to eat. To unlock the shop, you first need to build Olivia's house. The blueprint for the Bungalow is available at Rebecca's Designs when you start Town Restoration Plan #5. The house requires 35 Black Material Stone, 60 Black Lumber, 15 Glass Stone, 3 Jade, and 5 Amethyst. After she moves in, she will start setting up her tea shop.
Similar to Clement's restaurant, the items you buy from her shop are eaten at the time of purchase. She doesn't have a to-go menu, but you can order as many items as you'd like each day. Some of her menu items only appear after you've completed Town Restoration Plan #5.
Each of her food offerings will restore a set amount of Stamina points. Her weakest dish is 9 stamina points (Crepe, Fall menu) and her highest is 46 (Fall Tea Set B, Fall menu).
Dish names in bold can only be bought after you have finished Town Restoration Plan #5.
Spring Menu
Name
Price
Stamina Recovery
Cost per STA


(Approx. efficiency)

Cherry Pie
240 G
12 points
20 G per STA
Clafoutis
820 G
22 points
37 G per STA
Vegetable Cake
320 G
13 points
25 G per STA
Chiffon Cake
1190 G
26 points
46 G per STA
Apricot Cake
200 G
12 points
17 G per STA
Soy Milk Cake
980 G
16 points
61 G per STA
Brioche
710 G
20 points
36 G per STA
Cream Puff
950 G
26 points
37 G per STA
Pancakes
540 G
16 points
34 G per STA
Pudding
530 G
16 points
33 G per STA
Pudding a la Mode
1230 G
31 points
40 G per STA
Hushpuppies
710 G
20 points
36 G per STA
Yogurt Pie
350 G
16 points
22 G per STA
Mont Blanc
380 G
20 points
19 G per STA
Chocolate Fondue
1860 G
26 points
72 G per STA
Aloe Yogurt
380 G
16 points
24 G per STA
Spring Tea Set A
1360 G
42 points
32 G per STA
Spring Tea Set B
580 G
36 points
16 G per STA
Summer Menu
Name
Price
Stamina Recovery
Cost per STA


(Approx. efficiency)

Watermelon Sherbet
2250 G
13 points
173 G per STA
Kiwi Sherbet
200 G
16 points
12 G per STA
Orange Sherbet
570 G
20 points
29 G per STA
Strawberry Ice Cream
1030 G
16 points
64 G per STA
Pineapple Ice Cream
1510 G
20 points
76 G per STA
Peach Ice Cream
520 G
20 points
26 G per STA
Cherry Ice Cream
550 G
16 points
34 G per STA
Banana Ice Cream
600 G
20 points
30 G per STA
Mango Ice Cream
730 G
20 points
37 G per STA
Apple Ice Cream
230 G
13 points
18 G per STA
Grape Ice Cream
600 G
20 points
30 G per STA
Chocolate Ice Cream
1120 G
22 points
51 G per STA
Blueberry Ice Cream
500 G
16 points
31 G per STA
Pineapple Cake
1170 G
16 points
73 G per STA
Mango Cake
420 G
16 points
26 G per STA
Monaka Ice Cream
1520 G
31 points
49 G per STA
Summer Tea Set A
810 G
42 points
19 G per STA
Summer Tea Set B
890 G
36 points
25 G per STA
Fall Menu
Name
Price
Stamina Recovery
Cost per STA


(Approx. efficiency)

Yam Dessert
230 G
12 points
19 G per STA
Crepe
150 G
9 points
17 G per STA
Apple Pie
270 G
16 points
17 G per STA
Corn Muffin
450 G
13 points
35 G per STA
Bavarios
1520 G
26 points
58 G per STA
Grape Cake
300 G
16 points
19 G per STA
Apricot Cake
200 G
12 points
17 G per STA
Pancakes
540 G
16 points
34 G per STA
Soy Milk Cake
980 G
16 points
61 G per STA
Vegetable Cake
320 G
13 points
25 G per STA
Aloe Yogurt
380 G
16 points
24 G per STA
Pudding
530 G
16 points
33 G per STA
Pudding a la Mode
1230 G
31 points
40 G per STA
Pumpkin Pudding
990 G
22 points
45 G per STA
Soy Milk Pudding
550 G
13 points
42 G per STA
Cream Puff
950 G
26 points
37 G per STA
Fall Tea Set A
490 G
33 points
15 G per STA
Fall Tea Set B
1260 G
46 points
27 G per STA
Winter Menu
Name
Price
Stamina Recovery
Cost per STA


(Approx. efficiency)

Chocolate Fondue
1860 G
26 points
72 G per STA
Peach Pie
230 G
16 points
14 G per STA
Cherry Pie
240 G
12 points
20 G per STA
Apple Pie
270 G
16 points
17 G per STA
Orange Pie
330 G
16 points
21 G per STA
Blueberry Pie
200 G
12 points
17 G per STA
Cream Puff
950 G
26 points
37 G per STA
Yam Dessert
230 G
12 points
19 G per STA
Pancakes
540 G
16 points
34 G per STA
Soy Milk Cake
980 G
16 points
61 G per STA
Brioche
710 G
20 points
36 G per STA
Pudding
530 G
16 points
33 G per STA
Pudding a la Mode
1230 G
31 points
40 G per STA
Chocolate Pudding
1180 G
27 points
44 G per STA
Soy Milk Pudding
550 G
13 points
42 G per STA
Chocolate Cake
770 G
20 points
39 G per STA
Winter Prince Set A
730 G
32 points
23 G per STA
Winter Princess Set
360 G
36 points
10 G per STA