Olivia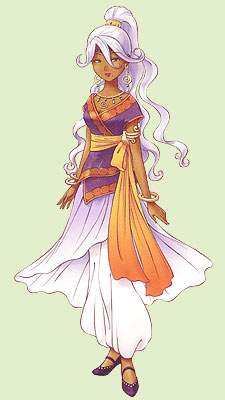 She may seem noble and have a regal aura about her, but Olivia isn't royalty like Amir. She knows a lot about tea and how to properly prepare it, so she runs a tea shop in the plaza area on Fridays, Saturdays, and Sundays. Olivia isn't a marriage candidate and has a fiancé, but he travels a lot. She anticipates the day that things will slow down so they can finally be together.
To unlock Olivia you need to be on Town Restoration Plan #5. You need to build her Bungalow using 35 Black Material Stone, 60 Black Lumber, 15 Glass Stone, 3 Jade, and 5 Amethyst. Jade will possibly be the hardest material to collect for her house, as it can only be found at the blue mining point inside of the mine.
Olivia holds some secret blueprints that you can receive if you befriend her. She has the winter flowerpot blueprints, winter flowerbed blueprints, the Wagon blueprint, and the Rug design floorings for your farmhouse.
Personal Data
Birthday: Fall 28
Family: fiancé (out of town)
Preferred Animals: All animals are liked (+150 FP) EXCEPT for Turtles, Sparrows, fat cats and dogs, chicks, and chickens
Daily Schedule
Sunday, Friday, and Saturday (sunny or snowy)
6:00 am to 8:00 am = Olivia's house (eating)
8:00 am to 10:00 am = Unavailable
10:00 am to 6:00 pm = Snack Shack (shop open)
6:00 pm to 7:00 pm = Unavailable
7:00 pm to 9:00 pm = Olivia's house (eating)
9:00 pm to 12:00 am = Random location C
Sunday, Friday, and Saturday (rainy) or Monday through Thursday (sunny, rainy, or snowy)
6:00 am to 8:00 am = Olivia's house (eating)
8:00 am to 12:00 pm = Random location A
12:00 pm to 2:00 pm = Olvia's house (eating)
2:00 pm to 5:00 pm = Random location B
5:00 pm to 6:00 pm = Random location C
7:00 pm to 9:00 pm = Olivia's house (eating)
9:00 pm to 12:00 am = Random location C
Sunday through Saturday (stormy)
6:00 am to 8:00 am = Olivia's house (eating)
8:00 am to 12:00 pm = Olivia's house
12:00 pm to 2:00 pm = Olvia's house (eating)
2:00 pm to 6:00 pm = Olivia's house
7:00 pm to 9:00 pm = Olivia's house (eating)
9:00 pm to 12:00 am = Olivia's house
Random location A: (sunny or snowy) Olivia's House, Village, West Village, or your West Farm | (rainy) Amir's Mansion, Village, or West Village
Random location B: (sunny or snowy) Forest, Mountain, or River | (rainy) Olivia's House
Random location C: (sunny or snowy) Amir's Mansion, Mine, Olivia's House, River, Village, or West Village | (rainy) Forest, Mountain, Olivia's House, or River
Gift Preferences
Special Gift
+800 FP
Dessert Recipe: Mango Cake
Flour + Mango (recipe found when mining)
Loved Gifts
+500 FP
Normal Items: Chamomile, Lavender, Rosemary, Great Milk, Great Jersey Milk, Great Yak Milk, Yogurt Jam, Herb Jam, Coral, Fish Fossil, Bottle, Sandrose, Elli Leaves, Bamboo Shoot, Bamboo, Snowball, Coin, Old Coin, Shiny Coin, Coconut, Ancient Clay Figure, Ice, Venus Comb, Triton's Trumpet

Fish: Koi
Liked Gifts
+300 FP
Normal Items: Pink Rose, Marguerite, Tulip, Sunflower, Red Rose, Hydrangea, Nadeshiko, White Rose, Gerbera, Snowdrop, Gentian, Blue Rose, Cactus, Rice Stalk, Wheat, Soybean, Cherry, Peach, Banana, Mango, Apple, Grape, Cocoa, Kiwi, Orange, Spring Tea Leaves, Summer Tea Leaves, Fall Tea Leaves, Mint, Sage, Aloe, Basil, Bay Leaf, Bergamot, Thyme, Milk, Jersey Milk, Yak Milk, Honey, Flower Honey, Royal Jelly, Yogurt, Great Yogurt, Jersey Yogurt, Great Jersey Yogurt, Yak Yogurt, Great Yak Yogurt, Fruit Yogurt, Great Fruit Yogurt, Jersey Fruit Yogurt, Great J. Fruit Yogurt, Yak Fruit Yogurt, Great Y. Fruit Yogurt, Vegetable Jam, Strawberry Jam, Pineapple Jam, Watermelon Jam, Kiwi Jam, Peach Jam, Cherry Jam, Banana Jam, Mango Jam, Apple Jam, Grape Jam, Chocolate Jam, Marmalade, Blueberry Jam, Milk Jam, Red Cloth, Green Cloth, Blue Cloth, Yellow Cloth, Orange Cloth, Purple Cloth, Chili Pepper, Wine, Rose Perfume, Ocean Perfume, Winter Bouquet, Moondrop Flower, Purple Down

Soup Recipes: Tom Yum Goong

Rice Recipes: Herb Pilaf, Curry Rice, Spicy Curry, Dry Curry

Dessert Recipes: Aloe Yogurt, Herb Ice Cream

Drink Recipes: all drink recipes EXCEPT Grass Juice
Neutral Gifts
+50 FP
All other items not listed
Disliked Gifts
-300 FP
Normal Items: Shiitake, Shimeji, Trumpet Mushroom, Coral Mushroom, Common Mushroom, Stay Awake, Stamina Booster, Super Stay Awake, Stamina Saver, Stamina Booster XL, Angler's Dream, Feline Friend, Canine Companion, Wild Animal Friend, Chicken Feed, Pet Food, Treat, Cow Treat, Sheep Treat, Chicken Treat, Fish Food, Truffle, Pearl, Sea Urchin, Can, Fish Bones, Old Boot, Weed, Small Rock, Rock, Black Rock, Small Branch

Salad Recipes: Boiled Spinach, Daikon Salad, Potato Plum Salad, Plum Paste Cucumber, Plum Vinegar Salad

Soup Recipes: Egg Spinach Soup, Miso Soup, Lotus Root Soup, Soy Milk, Clear Soup, Fish Chowder, Sturgeon Soup, Mitten Crab Soup

Fried Recipes: Grilled Fish, Okonomiyaki, Fried Lotus Root, Stir Fried Broccoli, Tofu Hamburger, Shrimp Chili, Tuna Steak, Meuniere

Pot Recipes: Turnip Stew, Simmered Potato, Boiled Pumpkin, Boiled Spinach, Simmered Eggplant, Boiled Daikon, Oden, Boiled Lotus Root, Boiled Broccoli, Egg Custard, Fried Angler Fish, Spring Roll, Deep-Fried L. Root, Fried Isobe, Deep-Fried Catfish, Grouper Stew, Angler Fish Stew, Chum Salmon Soup, Red King Crab Stew, Softshell Stew, Blowfish Stew

Rice Recipes: Fried Rice Ball, Mixed Vegetable Rice, Yam Rice, Chestnut Rice, Mushroom Rice, Squid Rice, Egg Rice Bowl, Eel Rice Bowl, Sea Urchin Rice Bowl, Seafood Rice Bowl, Oshinko Roll, Kappa Roll, Chirashi Sushi, Sea Bream Chazuke

Noodle and Bread Recipes: Eastern Pasta, Cold Noodles, Kitsune Udon, Stir Fried Udon, Udon with Egg
Hated Gifts
-500 FP
Normal Items: Fish Trap, Poison Mushroom, Barn Dirt, Dog Bone, Cat Bell, Oil

Fish: all fish EXCEPT Koi

Critters: all critters
HORROR Gift
-800 FP
Pot Recipes: Shredded Daikon